Divine Services are resumed in St. John the Theologian Cathedral of the monastery.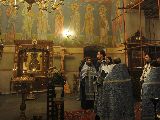 On the 20th of December 2012 the winter cathedral consecrated in honor of St. Apostle John the Theologian was opened after the completion of the first stage of restoration work.
Two and a half years ago several icon painters of Ryazan Eparchy began to paint the walls in this church. The decoration work in the front part of the nave is completed today.
Softened in color, but spiritually convincing wall paintings help a man to leave everyday problems and immerse in prayer. The decoration of the back part of the nave is planned to be continued in the nearest future. The scaffolding still remains there.
There is a feretory with more than 120 relics of saints at the right wall of this church near the iconostasis.
Week and feast Divine Services will be celebrated in St. John the Theologian Cathedral every week with the exception of Sunday Services and the Services of Great Feasts, which will be celebrated in the Cathedral of the Assumption.
The brethren of the cloister hope for the prayer of the pilgrims so that the God may help to accomplish the work which has been begun and the Cathedral of St. John the Theologian may be like Heaven on the Earth in its completeness.